Engineers and project managers at the state, county, city, and consultant level noticed that there is some confusion statewide regarding the operation and benefits of roundabouts. In some cases, this confusion, along with misinformation, has led to "roundabout myths" that are prevalent in many public roundabout discussions, publications, and presentations. This trend was also noticed by the board members of the Minnesota Local Road Research Board (LRRB), who realized that this statewide roundabout confusion could be an opportunity for an educational video that would benefit not only the general public, but also local agencies who encounter these roundabout myths on a regular basis. For this project, they selected our team to create a video that would help to dispel these myths.
A project workshop was held at MnDOT Central Office to create a comprehensive list of the modern roundabout myths that would be evaluated for inclusion in this project. After identifying the 10 roundabout myths that would be featured in the video, the next step was to perform research and data gathering. This was accomplished through an analysis of existing roundabout materials and also through interviews with roundabout technical experts. These interviews were filmed, along with on-the-street interviews with members of the general public to gain their perspective on roundabouts. Our production crew also filmed general traffic operations at several local roundabouts.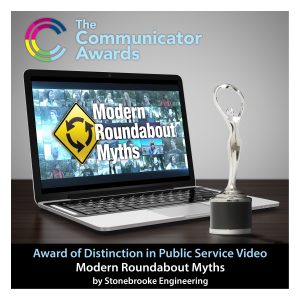 During the post production process, our staff identified areas of the video that would benefit from animated visualizations in order to better communicate the ideas.We created these animations in-house and incorporated them into the final video.
The final Roundabout Myths video was approximately 15 minutes in length. We also created a shorter 6 minute version for social media advertising. This project was recognized with an Award of Distinction in Public Service Video Production at the 22nd Annual Communicator Awards.